Sharp Electronic Organizer Repair
The Sharp YO-520 Electronic Organizer is a great organizer. A Sharp Electronic Organizer Can have pixel problems. Does your Sharp Electronic organizer look like the picture below? If so,it is in need of a repair before you lose all your Data or throw it in the trash by mistake!! I like the Sharp Electronic Organizer Y0-520.
The Sharp YO-520 is very easy to use. It has 3 telephone directories and all you have to do is push the button to go thru all 3 directories. In the Sharp YO-520 Electronic Organizer you can store thousands of telephones numbers. Much easier than a laptop. The Sharp YO-520 operates on 2 "AAA" batteries for about 100 hours.WOW!!!
Below is what a Bad sharp 520 screen looks like..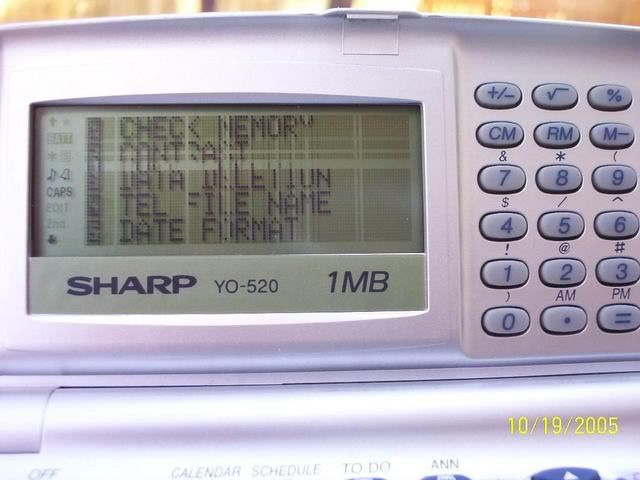 After we finish the repair on your Sharp Electronic Organizer it will look like
the Sharp YO-520 below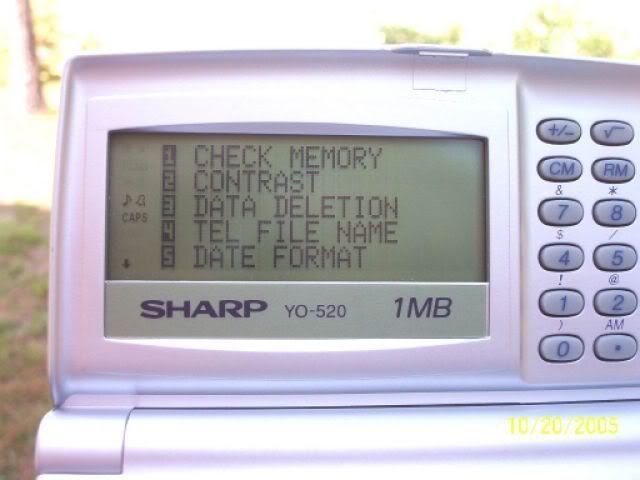 Sharp Wizard Repair will guarantee your Sharp Electronic Orgainzer for 6 months. It will probably last years!!

Make checks Payable to Charles Klaus. Send to address below.

All Mail goes to.

Charles Klaus

103 Club Colony Circle

Blythewood,South Carolina 29016

Same day shipping if I get payment before 1pm EST.

IN Stock now!! Call for pricing!! 803-736-4382.

We have New and some used Sharp YO-520's in stock.



E-mail us! Click Here.
Click here to visit the wizard shop and buy organizers


A Sharp Electronic organizer is your best bet for a good reliable Organizer. Where else could you buy a PDA that will works for 100 hours on 2 cheap "AAA" batteries. These new PDA's with color screens need constant recharging from a a/c outlet!!! You are in good shape with the Sharp Electronic Organizer,(YO-520,OZ-730,OZ-750 OZ-770)all these takes batteries you can buy ANYHWERE!!

CALL NOW TO GET YOUR YO-520 REPAIRED TO LIKE NEW CONDITION

CALL NOW TO GET THE SCREEN ON YO-SERIES ORGANIZER TO LIKE NEW AGAIN!!!803-736-4382
****WE ARE NOT AFFILATED WITH THE SHARP CORPORATION IN ANYWAY*******